4 Personal Branding Mistakes You Might Be Making
June 25, 2020
5 Differences Between a Boss and a Leader
October 16, 2020
2020 has been a wild ride and it doesn't sound like it's over, yet! Next stop on this ride … employers announcing if you're going to continue working at home or at the office. Many employers are making plans to slowly bring employees back into the office while others are continuing to let people work from home. We know both decisions can come with a full range of emotions for everyone involved. It's nerve wracking not knowing what the future holds! It also makes it hard to plan for the weeks and months ahead. All of that indecision can settle on your shoulders like a heavy weight, bringing you down. We get it – it's a lot to handle!
There's hope … and help! We've been talking through all kinds of different work-setting scenarios with job candidates and we thought you might like to hear some of the tips and tricks, too! No matter where you set up shop, we've got some great ways to keep you staying positive and productive. Just remember: You got this!
Are You Working from Home? 
If you've been working from home since the start of the pandemic, you've been in your workspace for a while now and probably have a good feel for what is and is not working. With those thoughts in mind, step back and take a good look at your workspace. Let's make some adjustments that give you a fresh start.
TIP: Define Your Space
Choose a permanent spot in your home to set up your office. It can be a separate room in your house, a space in your kitchen, or even an area of your garage (yes – even there!). Keep in mind, it doesn't need to be a full room – it can be a corner of a bedroom, family room, whatever works! The important part is designating the space as your work area.
TIP: Declutter Your Work Zone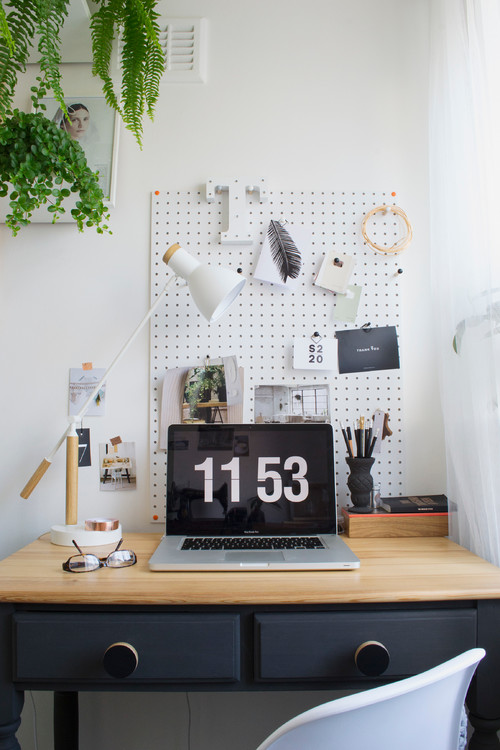 Clutter = chaos. If you're guilty of a messy workspace take some time to declutter. It'll increase your productivity and your motivation! Organize the area by utilizing your wall space. Add shelving, a bulletin board, or a peg board to help keep your supplies and important reminders in order.
TIP: Light it up!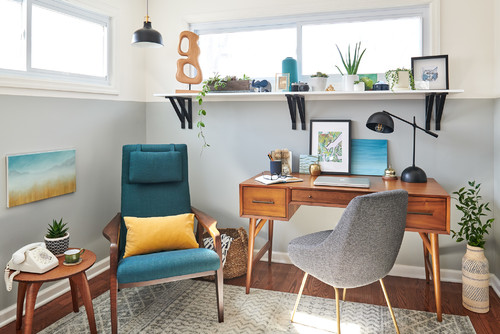 If you can, set up your space with plenty of natural lighting. Sunlight is a mood booster and improves productivity. If windows aren't an option, be sure to have a desk lamp.
TIP: Get Comfy.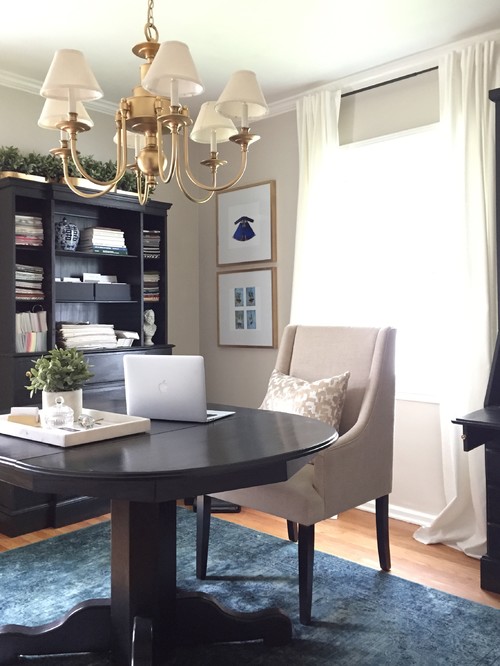 Get a comfortable chair – especially if you're sitting at your computer all day. Don't forget to take advantage of having a home office by using footstools or pillows, too!
TIP: Personalize Your Space.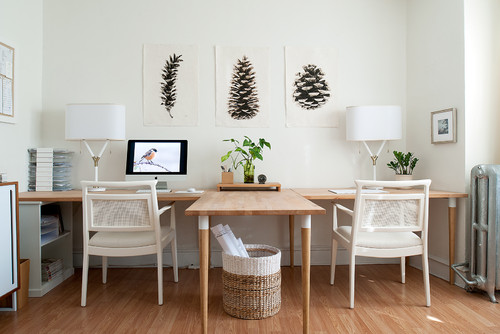 Decorate your area with something you love. Whether it's photographs, fresh flowers, or candles in your favorite scent don't miss the opportunity to personalize your home office! There are no rules – this is your home!
Will You be Transitioning to the Office?
Are you one of the employees who've gotten notice that you're transitioning back into the office? We've seen so many mixed reactions from job candidates we've met with. Some are excited to go back and have been missing the in-person collaboration with colleagues and even the routine of heading into work. (Who'd have thought we would miss our commute?!) If you're feeling the exact opposite of excited and a bit sick to your stomach about going back, then use these tips to stay positive and make the most of it.
TIP: Focus on Reconnecting.
Reconnecting with your coworkers in person might lessen the uneasiness you feel now. Emotional health is important to your overall health. One way to boost your mood is to be part of a community and your work buddies can provide that for you. Make a "coffee date" in the break room to catch up while you grab your drinks and walk back to your desk.
TIP: Bring "Home" with You.
Dreading your dull desk? Bring a bit of "home" into the office with you. Update your photos – display those smiling faces! Bring in your favorite pens, lamp, notepads, and sticky notes. Add your favorite colors and themes to your workspace. You could even bring your favorite throw blanket and place it over the back of your chair. Get creative while following the rules of your office.
TIP: Make the Most of Your Commute.
Anxious about rearranging your morning schedule to allow for commute time? The best way to get around that is to make the most of it. Have podcasts and audio books ready to go. If you think your first drive into work is going to be a rough one then listen to a podcast about positivity or create a playlist of your favorite upbeat songs and jam out to those.
Will You Have a Hybrid Schedule?
Flexibility is key during this trying time and many employers are allowing employees to work from home a couple days a week. Use these tips to keep your at-home workspace ready and to ensure you're all set when it's time to head into the office.
TIP: Keep Everything Portable.
If you'll be going back and forth between home and the office, then you'll want to make sure your most important items – laptop and files – are easy to pack and carry. Keep your laptop, chargers, and files in a bag that you can easily transport to the office downtown or the one down the hall. This is a great time to try to go paperless if you can, to help reduce clutter.
TIP: Scope Out Your Work Zone & Keep It Clean.
You probably won't need a permanent work spot, but you'll definitely want to scope out a space that'll work well for you when the time comes. Set up a temporary office in your home by utilizing a counter or table or purchasing a fold-up desk that can be hidden when you don't need it. Keep the space clean so you're not wasting time cleaning on days you're working at home.
Westphal Staffing Can Help
If you're feeling unsettled about work and it isn't because of where your workspace is located, then it might be time for a change! Visit our website to find new opportunities and your next adventure! For a personalized consultation, contact us today to speak with a recruitment specialist. We will talk about your skillsets, what you are looking for, any opportunities that might be a fit for you.